PLEASE CHECK HERE OFTEN FOR NEW PHOTOS AND NOTES FROM THE CREW
Andy has been released from the hospital and will take a night to recover in Blanding, UT. He greatly appreciates all the well wishes and the entire crew would like to extend our sincere thanks to the wonderful team at Blue Mountain Hospital. Every one from the ER staff to the nurses in the overnight stay area were so kind and accommodating. They took excellent care of Andy and our entire team. Our hearts are full with love and gratefulness.
We are sad to report Andy will not be able to continue to race. He was taken to the ER where he is currently being treated for heat stroke among other things. He is stable and is ok. Please keep him in your thoughts.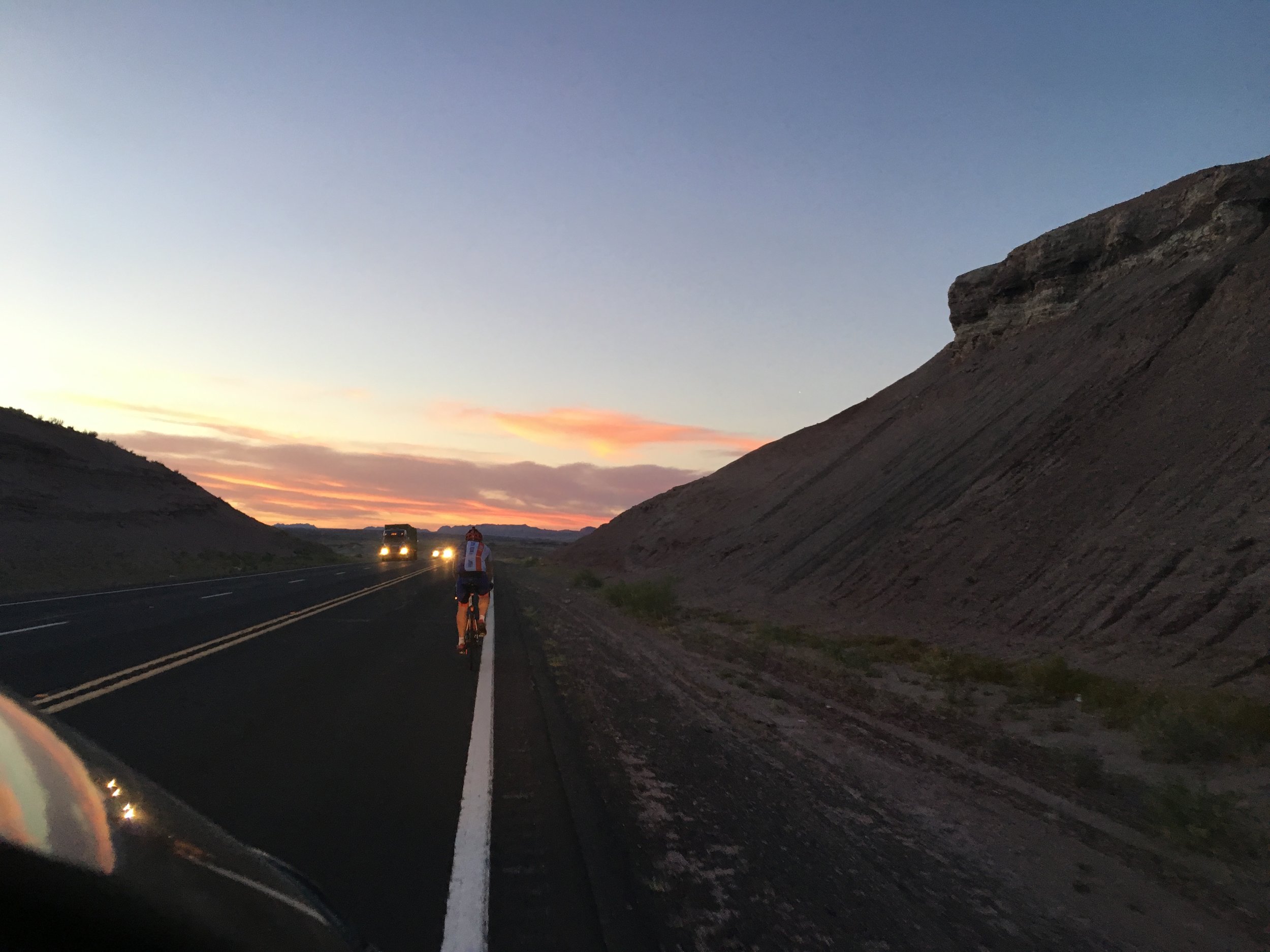 Last night was a hard night. Andy's saddle sores became worse and he had to be treated in a hotel bathroom. He continued to ride strong however and kept pace with very little sleep. Tomorrow we are hoping to be in Monument Valley and then cross into Utah.
We were lucky to see the most gorgeous sunset on the Navajo reservation and ride through the town of Cameron.
The crew is starting to feel the effects of little sleep and inconsisent meals but overall we are having a blast and feel really lucky to be out here with him.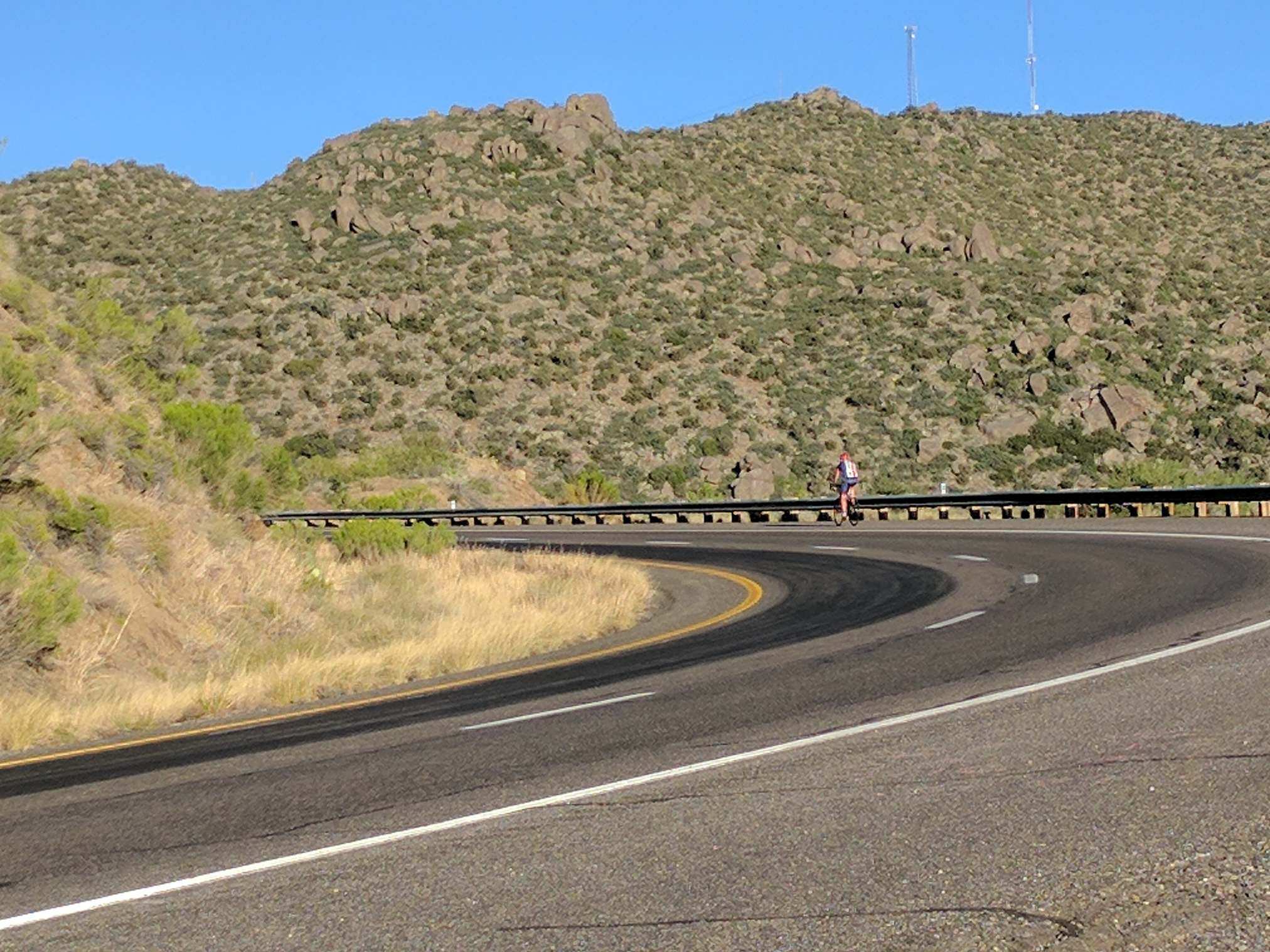 Wednesday, June 14th PM and Thursday June 15th AM. Last night after the heat of the desert and the Yarnell Climb up into Prescott, AZ, we got a hotel room for Andy and he slept 2.5 hours. The first solid sleep he has had since the night before the race.
The dessert was HOT. No other way to put it other than it was HOT. He was able to take part of the tradition of stopping at Congress, AZ TS and taking a dip in a COLD pool...earning himself a rubber ducky. He also took a quick shower in a KOA outside of Congress.
This morning, he is riding strong. He just finished a 37 mile climb with 7000 feet of elevation gain. It is getting hot again but he is pushing through and has passed several people on his climb and continues to gain on his competitors.
His racing buddy, Paul, was unfortunately in the hospital yesterday due to a sodium imbalance. He receive two IV bags of fluids and is back on the course.
So far, Andy has ridden 550 miles, well above his needed pace!
Glass Elevator Video - Day 1
Inspection Day Full Video - Pre Race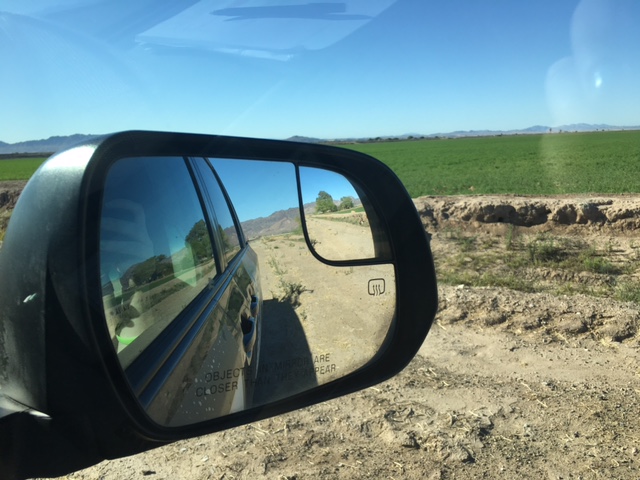 June 13, 2017 - Tuesday Evening / June 14, 2017 Wednesday Afternoon. We did our first official crew change around 1 AM PT Wednesday morning. Andy only slept 20 minutes before the crew change and we know nights are typically hard for him to stay awake. The crew blasted some of his favorite tunes over the speakers, he talked to a few friends on the phone, and took two very quick cat naps for a total of 30 minutes. As of 3:20 PM PT on Wednesday, that is all the sleep he has had.
He has been riding in the desert where temps have been in the low 100s. He has been battling the heat like a champ. In Salome, AZ we got him off the bike and into a nice shower to cool off and freshen up. He has some saddle sores and is losing strength in his hands, but overall is in really good spirits.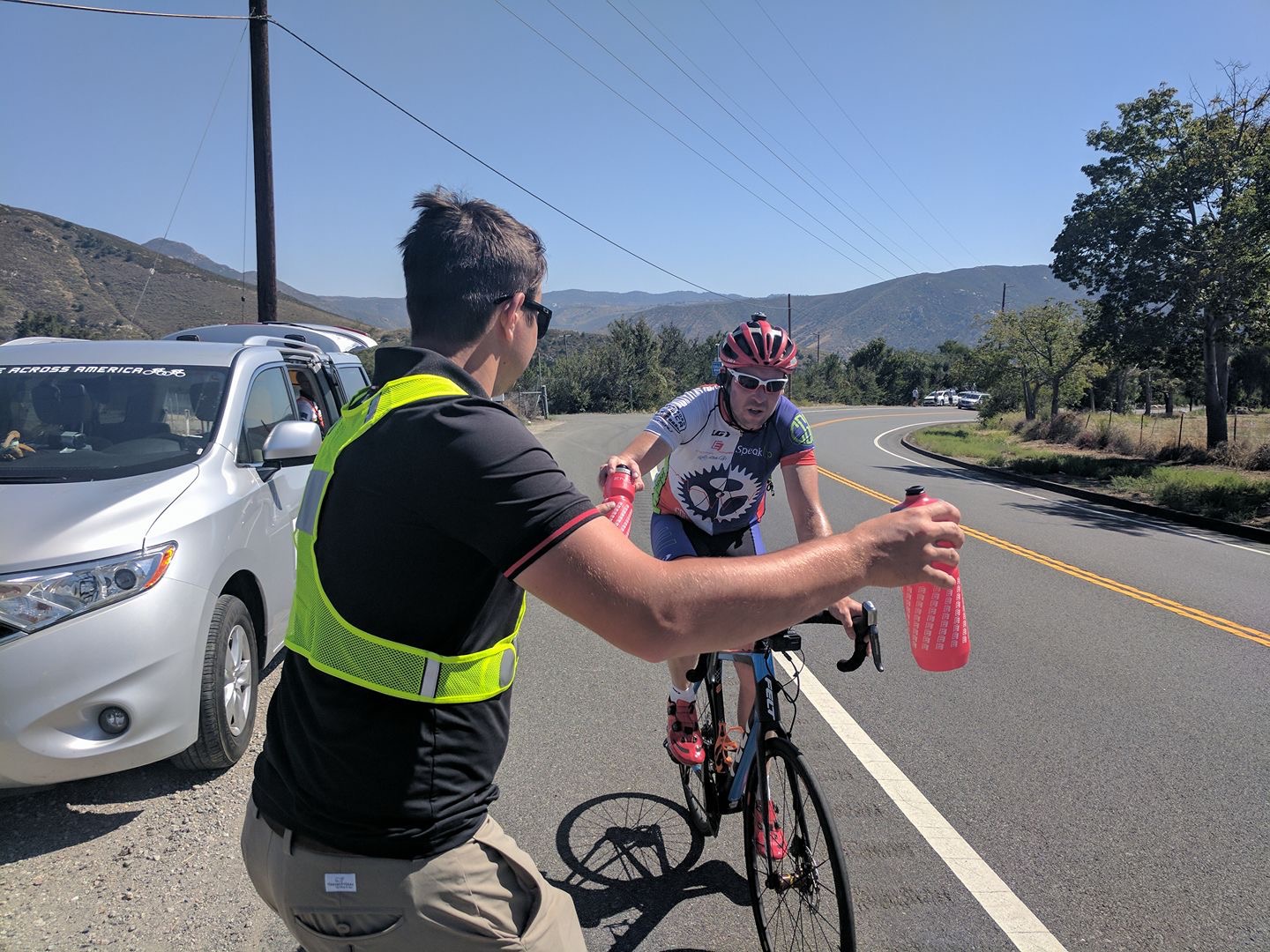 Day 1 - Afternoon Shift Update
June 13, 2017 - Tuesday. Andy started Race Across America this afternoon at 1:07 PT, a dream 10 years in the making. He started the day calm, but admittedly scared. The start of the race took him to the famed intimidating descent, the Glass Elevator. From there, he dropped into the desert floor into hot temperatures for a quick stop in Borrego Springs. He has been experiencing some mild cramping, but was in very good spirits. He said, "I prayed to Cameron all the way down, and, Becky, can you believe it, I passed someone on the down hill!" To which, Becky replied, "was the person injured?" ;-)
His goal is to keep riding through the night and possibly take his first extended break tomorrow afternoon/night during the worst heat.
Fearing the dreaded one hour penalty before the race even starts, we checked and double-checked to make sure the cars and equipment were ready for inspection. As many of you saw on our FB live, we did indeed pass.
After that, Dorene and Becky attended a thorough and very informative crew chief meeting while the gang got to check out the boardwalk and a little of the beach. The boss of all bosses, dipped her toes in ocean water for the first time.
Tomorrow, we have team pictures and a crew meeting. Monday night, we have the much anticipated racer meeting, which is almost like an opening ceremony, or as Dex Tooke, RAAM legend, says -- the introduction of the gladiators.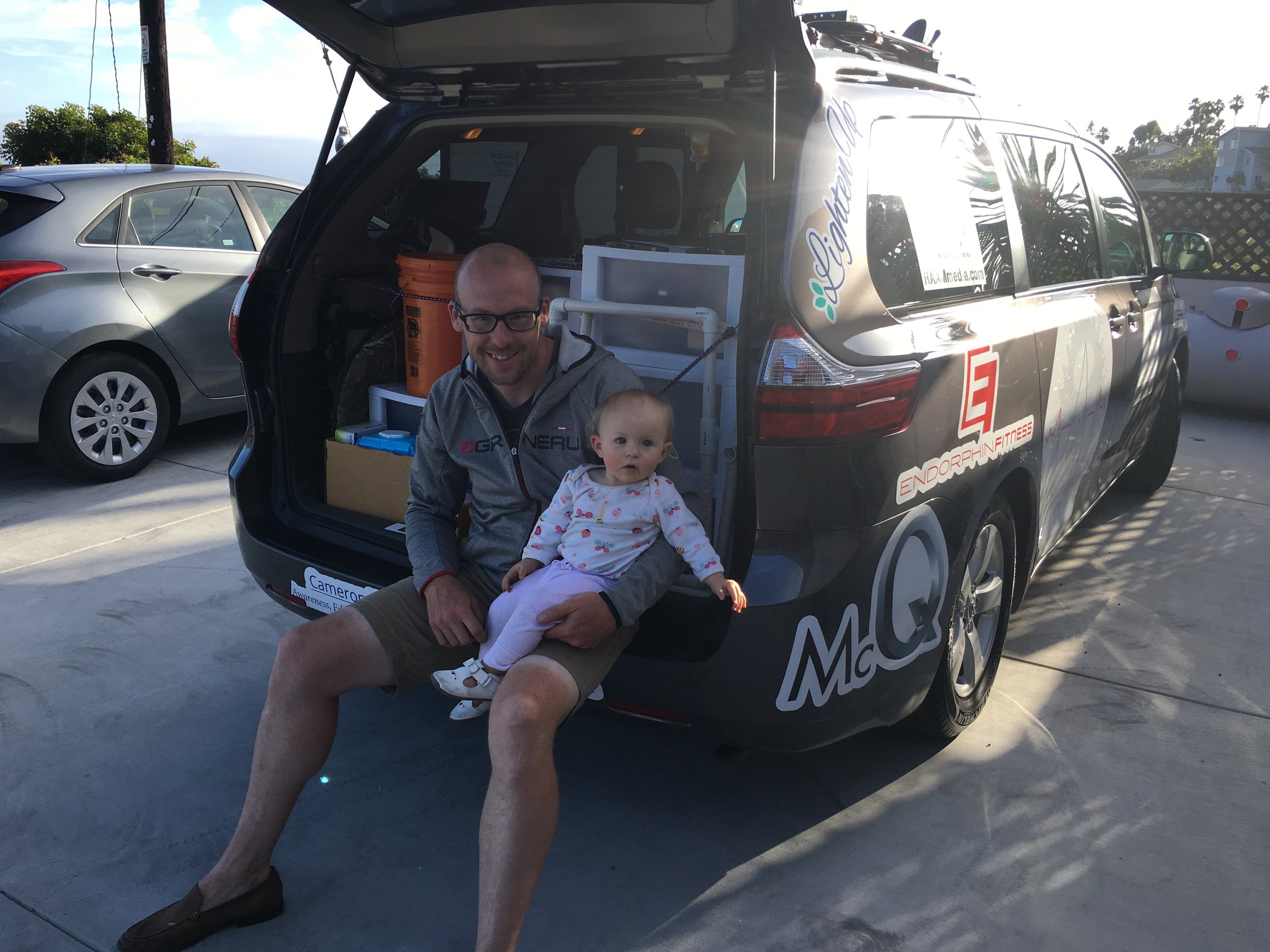 Today was about rest and preparations. All but one of the starting crew members have arrived. A not so good statistic for us, 4 of the 7 crew members who had to fly, had canceled flights due to mechanical issues. Dane, Andy, and Marie are the lucky winners who didn't have flight troubles -- let's keep Andy on the winning team.
The crew cars are all outfitted with decals (Thank you sponsors!) and set for inspection tomorrow, which will happen at 11:00 AM PT. Tomorrow, we also plan to give you guys a video glimpse into the crew cars so you can have an idea of how the mobile command center works.
Until then, enjoy the sleeping beauty picture of Dane and Andy creepily sleeping identically.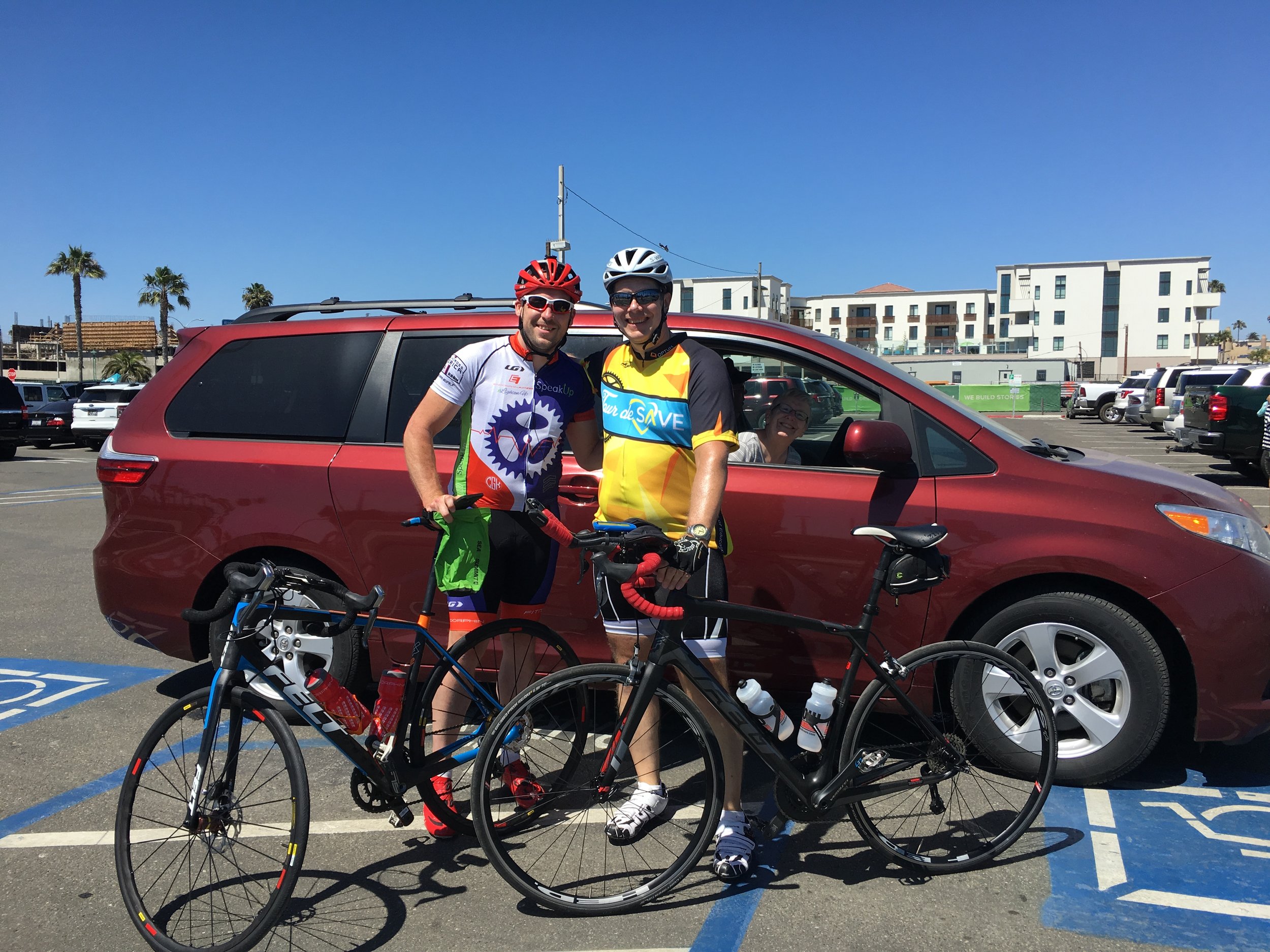 We went LIVE today. Hopefully some people were able to tune in at work or throughout their day as we setup the crew vans. We have 24 USB ports wired into the van, GPS units, siren, lights, intercom, which means we are now officially a mobile command station.
Andy escaped the crew and went for a 50 mile bike ride with fellow RAAM rookie, Paul Korkowski.
Becky's college friend, Terrell, came down from L.A., to help us wrap the car in sponsor logos. And then we wrapped up the night, with a dinner table full of friends and horror-arious (see what I did there?? Horror and hilarious.) ultra racing stories.
More of the crew has arrived
Andy, Dane and Becky have safely arrived in Oceanside, CA. The crew vans have been acquired and setup, we need to a few more things tomorrow but things are progressing smoothly. Andy plans to do some short rides with Paul a fellow racer who is riding for SAVE (Suicide Awareness). On Saturday, majority of the other crew members will be arriving.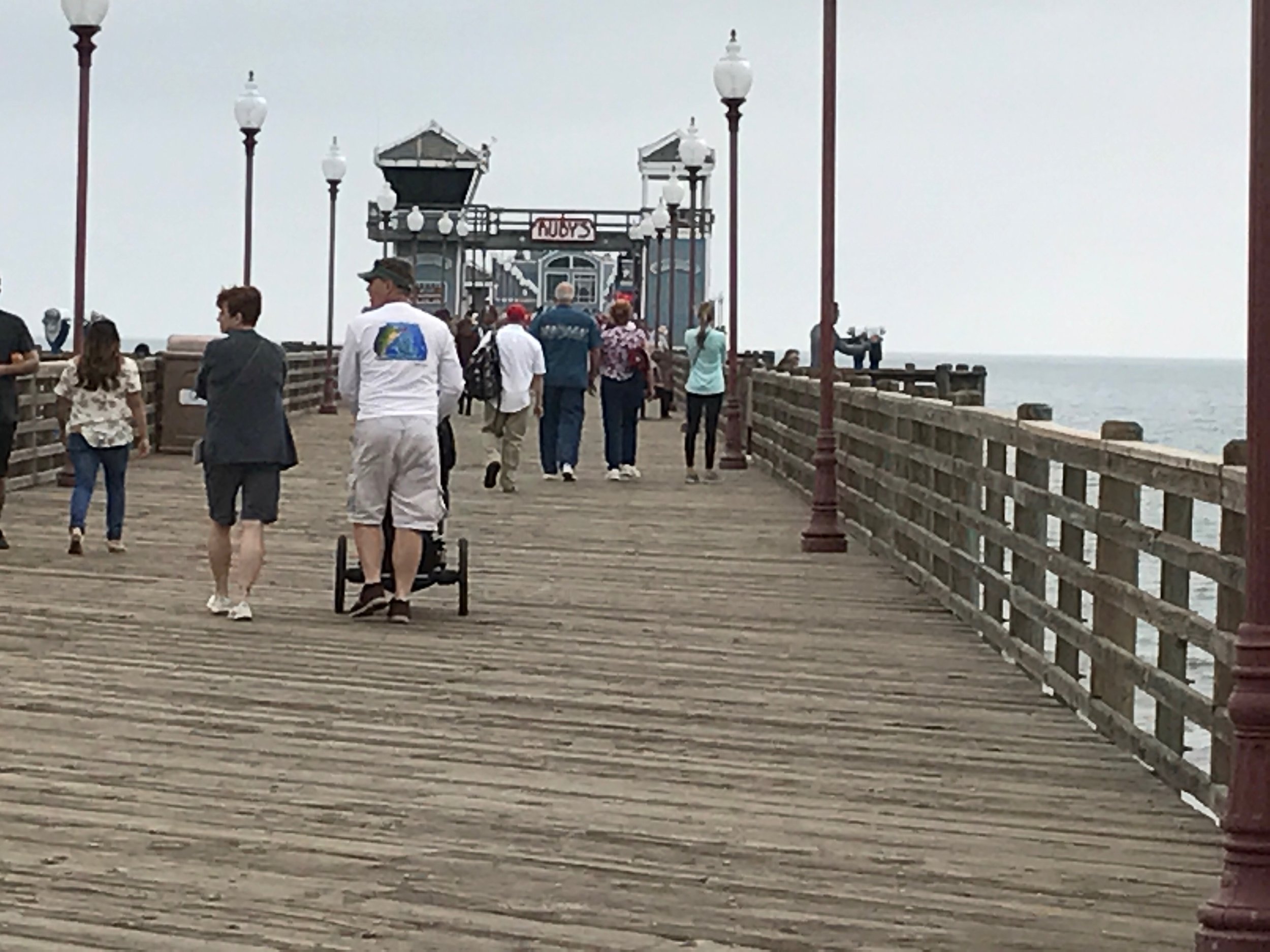 Where it will all begin...
Friday, June 2, 2017
The RV has arrived safely in Oceanside, CA! Nothing like some drama on the way, but Jim and Dorene are safe and sound. Jim and Dorene are staying with the RV on Camp Pendleton, which is only a few miles away from the Oceanside Pier where Andy will start Race Across America in just a few days.
Andy and the rest of the crew are working on final details at home and are anxiously awaiting their flights to join the RV in Oceanside.
Let's check out some ERs, shall we?
Monday, May 29, 2017
Ok, maybe we are just getting all our bad luck out of our system before RAAM starts. This morning, Andy and his family awoke to a text message from Dorene, aka mom, saying Jim, aka dad, was taken to the emergency room first thing this morning. We knew he was suffering from some dehydration and might have a stomach bug, but we weren't expecting it to worsen to the point he couldn't stand up or walk.
He was able to get 2 liters of fluids, have some blood work done, and some medications to help with the vomiting and dizziness. A few hours later he was released.
Sadly, we weren't able to get video of Dorene, riding in the BACK of a police car on her way back to the campground to get the truck.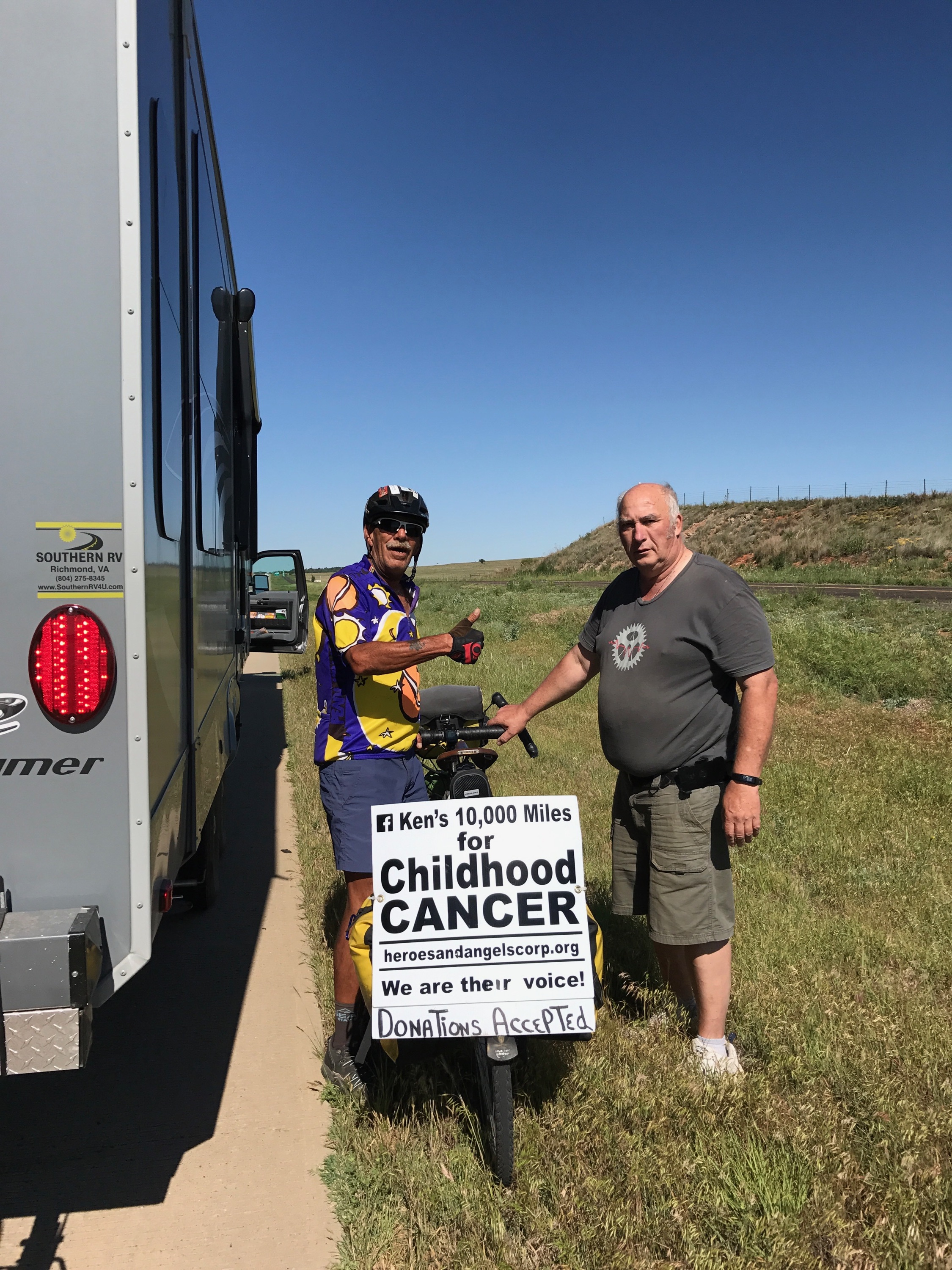 Sunday, May 28, 2017
Continuing on their drive, Jim and Dorene spotted a cyclist walking his bike on the highway. Looking like he could use some help, they pulled the RV over and offered the gentleman a ride. He was suffering from a hamstring injury so he hitched a ride to the next town. Interesting man, his brother played professional football -- even earned a super bowl ring -- and has done RAAM twice. Ultra cycling is a small world. Ken, that's his name, has been riding since January, he is trying to ride 10,000 miles for childhood cancer. You can see more information on his Facebook page:
https://www.facebook.com/kens10000milesforchildhoodcancer/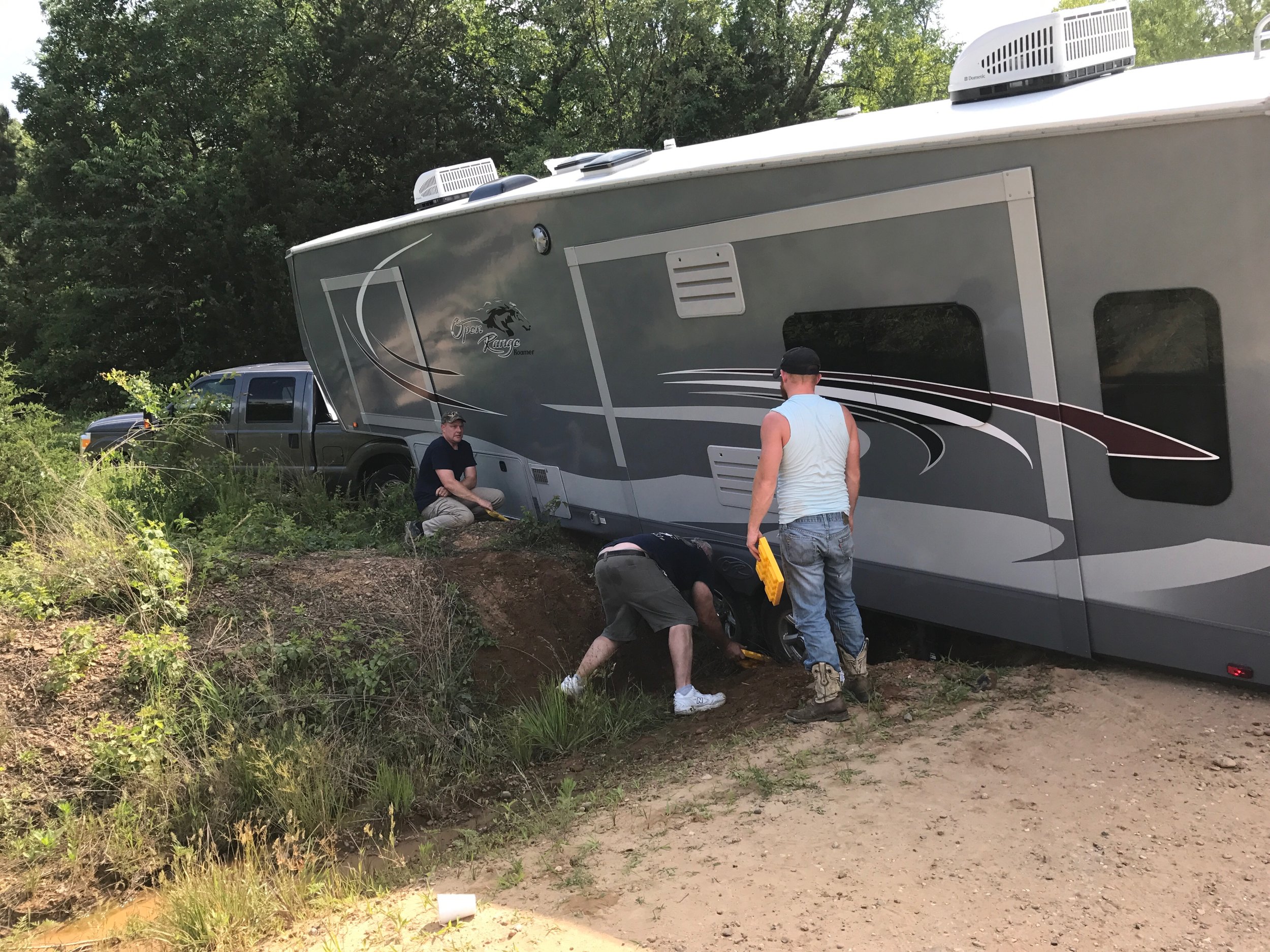 Nothing to see here folks...
Friday, May 26, 2017
Uh, it's day two and we already have ourselves in a bit of a pickle. A tight left turn into the campground, left Jim and Dorene in a ditch waiting for a tow truck. They decided it was best to abort the original plan and stay at a different campground.
ON THE ROAD
Thursday, May 25, 2017
Mixed emotions today as the RV left Richmond, VA for Oceanside, CA. Andy's parents, Jim and Dorene, are driving a casual scenic route across the United States, planning to arrive before Andy and the crew start arriving on June 8th.